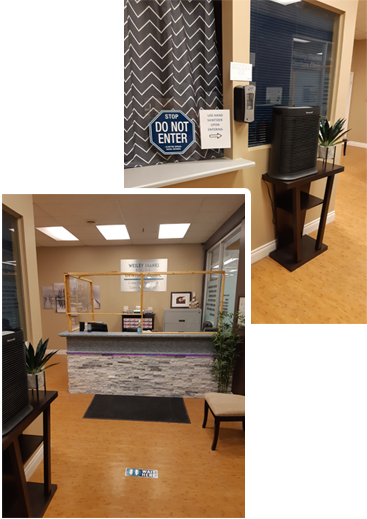 What To Expect Upon Your Arrival
I would like to first thank each and every one of you for your patience for these past months. Tough times build tough people and these times lately sure have been very odd. The College of Denturists has given us the green light to start repairing, adjusting, relining, and fabricating dentures again with a few new safety precautions.
First of all, we kindly ask every patient to wear a mask into the office. We are trying to minimize patient walk-ins as best as possible so please call ahead to book an appointment time. If you have been here before the first difference you will notice is the signage outside the front door before entry. Please read the brief notes as the door will be locked. Press the doorbell (which is disinfected after each press) to let us know you are here. Erin or I will come to the door to ask you a few questions and read your temperature with a non-contact thermometer.
Don't worry! The same friendly smiles are here but hidden behind masks and face shields. We will enter and use the motion sensor hand sanitizer machine before passing our plexiglass reception shield to be seated in the operatory. You will perform an oral rinse before I will come into the operatory to see you. Your health and safety are our number one concern and we take pride in our responsibility to one another.
Please give us a call to book your appointment and feel free to ask any questions before your arrival. We are looking forward to seeing you again. Thank you for your patience and understanding during this time of change.
Sincerely,
Erin and Wesley